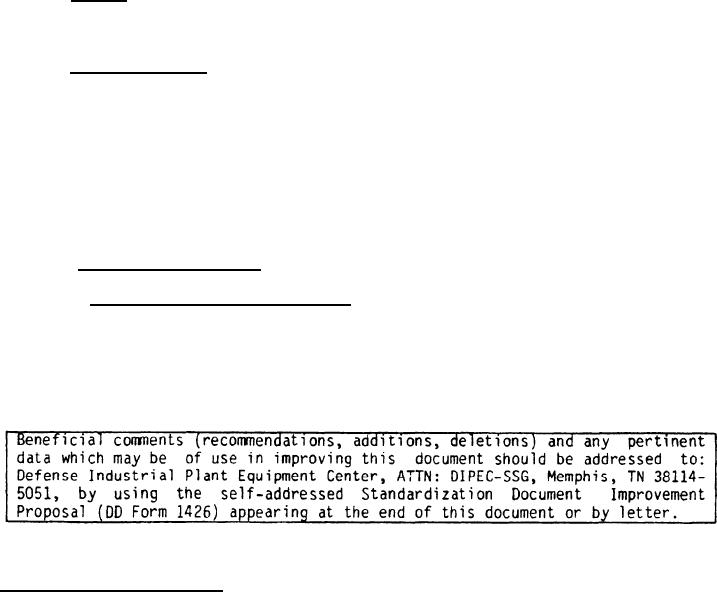 MIL-S-45860D
23 March 1988
SUPERS EDING
MIL-S-45860D
4 January 1982
MILITARY SPECIFICATION
SHRINKING AND STRETCHING MACHINE, SHEET METAL,
MANUAL AND POWER OPERATED
This specification is approved for use by all Departments and Agencies of the
Department of Defense.
SCOPE
1.
1.1 Scope. This specification covers manual and power operated shrinking
and stretching machines for forming sheet metal, angles, flatbars, and plate
with equipment and accessories specified herein.
1.2 Classification. The shrinking and stretching machines shall be of the
following types and of the sizes listed in tables I, II, III, and IV. The
type and size to be furnished shall be as specified (see 6.2.1).
Type
I
-
Manually operated.
Type
II
-
Pneumatically operated.
-
Hydraulically operated.
Type
III
-
Mechanically operated.
Type
IV
APPLICABLE DOCUMENTS
2.
2.1
Government documents.
2.1.1 Specification and standards. The following specification and stan-
dards form a part of this specification to the extent specified herein. Un-
less otherwise specified, the issues of these documents shall be those listed
in the issue of the Department of Defense Index of Specifications and Stan-
dards (DODISS) and supplement thereto, cited in the solicitation.
AMSC N/A
FSC 3441
DISTRIBUTION STATEMENT A. Approved for public release; distribution is unlimited.
For Parts Inquires submit RFQ to
Parts Hangar, Inc.
© Copyright 2015 Integrated Publishing, Inc.
A Service Disabled Veteran Owned Small Business